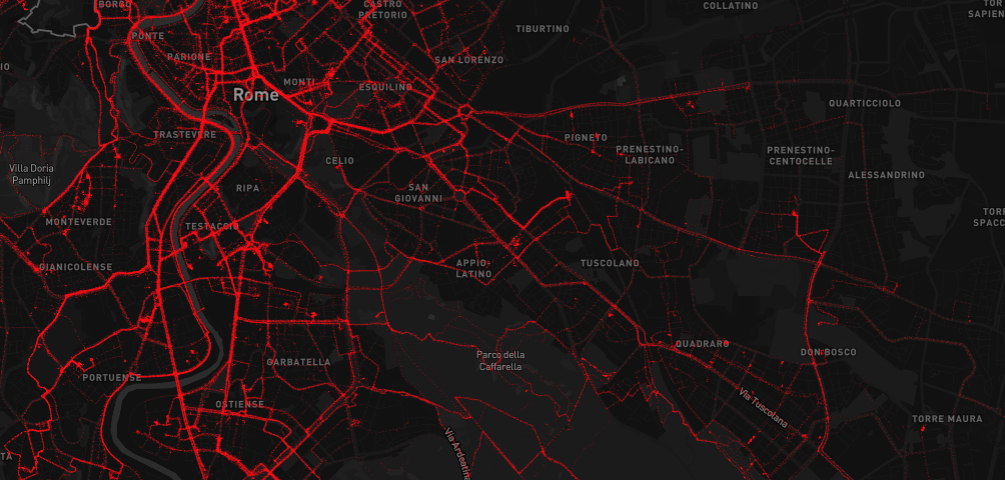 [fullbox id="" padding_top="20″ padding_bottom="20″]

[/fullbox] [fullbox id="" padding_top="20″ padding_bottom="50″]
THE "BOTTOM-UP" MOBILITY PLAN OF THE SEVENTH DISTRICT OF ROME
(HOW TO USE AN ABANDONED ANAS TUNNEL TO IMPROVE LIFE FOR CYCLISTS).
[/fullbox] [one_half last="no"]
Good citizenship in its purest form from the Settimo Biciclettari, the coordinated group of committees and neighborhood associations of the Seventh Municipality of Rome, active in the realisation of a plan for sustainable mobility built "from the bottom up."
Led by Dario Piermarini, the group calls for a custom city of cyclists and pedestrians through a Bikeplan shared by all the local authorities, based on on-site observations, surveys and interviews with residents of the neighborhood.
It is work carried out in person, with a steadfast desire for change, which has made it possible to identify priorities and problems, study alternative routes based on maps and technical documents, just as would be done by a municipal administration that is attentive and efficient.
The number one goal of the plan is to cross the ring road at Via Lucrezia Romana, which splits the Seventh District in two. It would be impossible for bikes to cross a monster of that size quickly and safely , were it not for an ANAS technical tunnel, intended for the passage of cables and pipelines but now abandoned.
Thanks to Dario and six friends armed with brooms and picks, in a couple of afternoons of hard work the tunnel was cleared, cleaned and secured so that we could pass through it on our bikes. The team was immediately renamed as the Seven Dwarfs, to whom the name of the new passage was dedicated.
The seven dwarves have earned not only the applause of ANAS, but also several thousand euros for the lighting and decoration of the tunnel with murals by street artists from Parione9.
Fascinated by such determination, we wanted to actively contribute to this project. The map shown here shows the cycling journeys in Rome, detected thanks to our app. We constantly update it, thus improving the information available to the Seventh District.
Together we will be able to understand the needs of cyclists and pedestrians by amplifying their voice, and with our activities supporting research for a concrete plan of sustainable mobility.
[/one_half] [one_half last="yes"] [fullbox id="" padding_top="0″ padding_bottom="20″]
Underpass of the outside lane of the GRA ring road.[/fullbox] [fullbox id="" padding_top="50″ padding_bottom="50″]
Preparing the tunnel murals.[/fullbox] [/one_half]