[fullbox id="" padding_top="20″ padding_bottom="50″]
ROAD ACCIDENTS INVOLVING CARS ARE AMONG THE MAIN CAUSES OF DEATH IN EUROPE, YET THE MEDIA ACCIDENTS WITH CYCLISTS AND PEDESTRIANS PREDOMINATE. SOME DATA TO ILLUSTRATE THIS "BATTLE OF THE HAVE-NOTS"
[/fullbox] [one_half last="no"]
According to the European Road Safety Observatory fatal accidents on European roads are about 30,000 a year, and always involving a car or a motorized vehicle.
Cyclists and pedestrians – the so-called "weak users" or "non-motorized" – are particularly exposed and vulnerable: every 100 victim, 30 belong to this category. This proportion rises further, up almost 50%, in urban areas.
It should be said that accidents caused by bicycles at the expense of pedestrians, although almost never fatal (in 2015 there were 3 deaths in Italy and one in Spain), are slightly up, thanks to the steady growth of the bike as means of transportation in urban areas (according to QualeEnergia in Europe 50 million citizens use bicycles to get to work on a daily basis).
The fact remains that the bike is a thousand times less dangerous than the car. Despite this, quarrels between cyclists and pedestrians always make the headlines, in what looks very much like a real "battle of the have-nots": when cars take up almost all the space, pedestrians and cyclists are often forced to use the same small areas.
The key factor in these cases, in addition to common sense and good education, is represented by speed. The potential consequences of an accident vary depending on the speed of impact and this is true even when forced cohabitation occurs between cars and bikes.
We therefore wanted to provide a set of specifications regarding the speed of cyclists in the city of Bologna. The data refer to the first five months of 2016 and take into consideration half a million detections.
Speeds above 30 km/h are little more than a hundred, hence an absolutely small number compared to the total.
Speeds between 20 and 30 km/h (paces for urban trips and not of competition) are not necessarily concentrated along the slopes that lead down from the hills into the city but are in the flat areas just outside the historic centre.
Another interesting aspect is that the type of road is not the only element able to condition speeds, in fact we've found quite some different behaviours and speeds for every single stretch of road.[/one_half] [one_half last="yes"] [fullbox id="" padding_top="0″ padding_bottom="20″]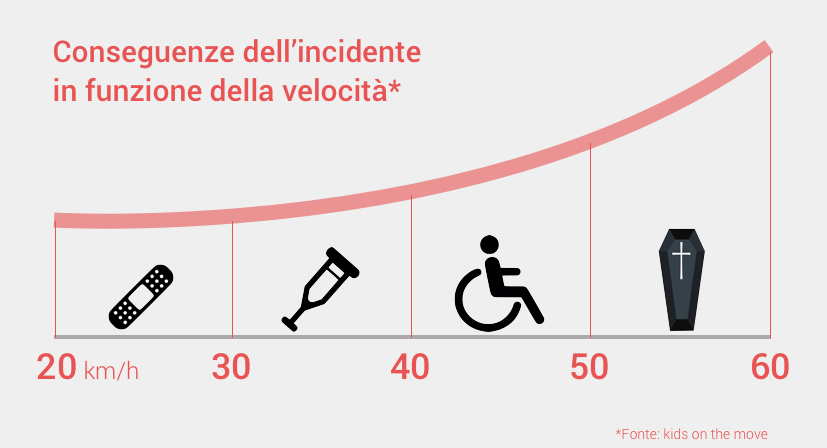 The speed of impact is all, in case of accident [/fullbox] [fullbox id="" padding_top="50″ padding_bottom="50″]
A bicycle through the streets of the city of Bologna[/fullbox] [/one_half]